Vandalism is a serious offence in my country.
Drawing on the public wall is really not allowed as the offender can be fined or even caned for serious ones.
It would be considered destroying public property that belongs to everyone so it is not right for the selfish desire of one individual to vandalise for the sake of venting out one's anger or frustration.
I was really surprised to visit a eating house that allows anyone to draw or write on its walls.
Customers can use markers or pens to draw or write with no restriction or permission needed.
It is therefore a great place for youngsters to vent out their urge to vandalise legally.
The below were the photographs that I had taken when I was at the eating house.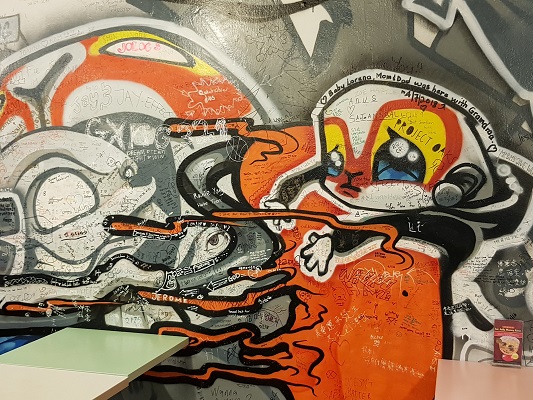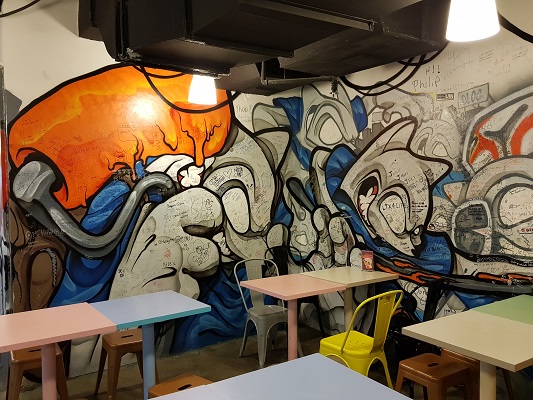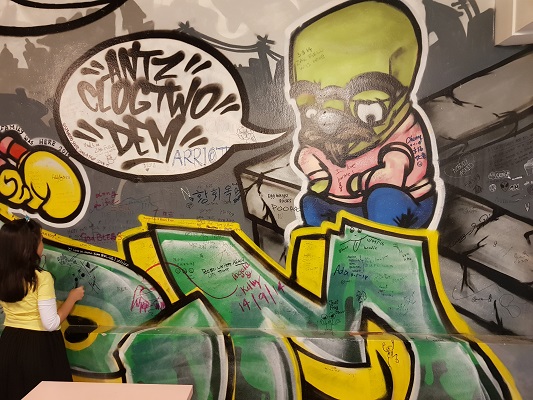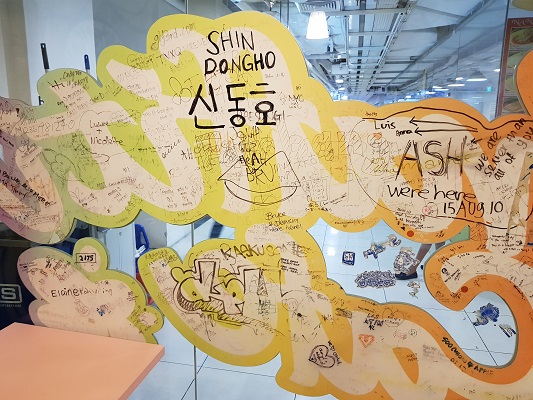 My son had just entered Secondary School and there was a parent briefing early this year.
While waiting at the school canteen, I noticed that the school had made an effort to put up drawings of students that looked like graffiti.
Freedom to express emotions without formal restriction may be lacking in most schools.
It is great that the school even put them up to provide ownership and recognition for these students since most of them may have lacked the recognition throughout their educational journey.
All schools must find ways to provide freedom for expression through drawing or writing in any form.
Rather than having the enforcement of 'No', we can say 'Yes' with boundaries set up for freedom of expression.
Below are two photographs taken using my mobile phone when I was at the canteen in my son's school.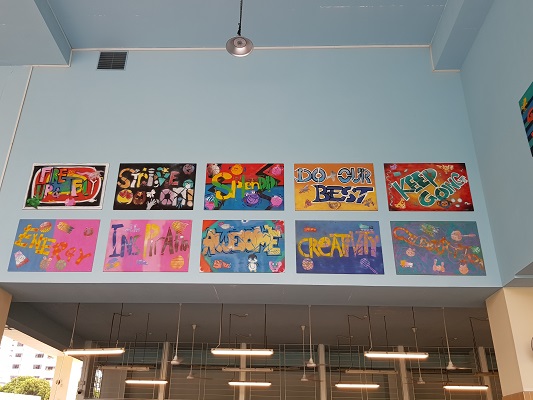 I am quite sure we can see the benefits of making what is unacceptable to acceptable as long as the right boundaries are set up.
The current generation is not the same as the past and they face new challenges that we do not face when we were at their age.
They often desire freedom and we are the ones that are suppressing them.
Giving them freedom within the boundaries with choices can allow their inner feelings and thoughts to be expressed.
As educators, we get to know our students better and we can establish better rapport with them.
Disclaimer: This is my personal reflection and I am not in any position to instruct anyone what they should do. I am not responsible for any action taken as a result of this post. My post can only be a reference for your further research and growth. By reading this post, you acknowledge and accept that. All pictures were taken using my Samsung S8 mobile phone.
This publication can also be found on both of my other blogs at Steemit and fun2learn.steemblogs.club being posted on the same day on this platform.