Hello guys,
Greet me with joy and happiness🤗
Half the happiness of the heart is visiting a beautiful place on this earth. tell me, is this wrong? Every happiness has 100%, Half of the 100 is 50. When we travel to a place that is magnificent with its beauty half of happiness occupies our hearts. I think you are too.
Reality is the answer, why they like to travel, and many people travel far just to see the sights of this nature, Because the beauty they witnessed gives a beautiful impression of happiness in hearts, You believe it or not in fact like that.

This time I want to share a beautiful moment when I travel to one of the grandest tourist attractions in the Aceh-Indonesia province.
my trip was accompanied by several of friends.
This tourist spot is called "Mount Geurutee." Located in Aceh, Indonesia.
I am sure, all Acehnese people often hear about this place, famous for its beauty and many people who visit there. Even the tourists also often visit this one tourist spot.
The two sides that I like in this place
The supine sea beautiful
When I stood at the top of the mountain, and looked down, I saw an endless stretch of sea. as if the sea is connected with the sky, the color of the sea water is quite clear so it looks bluish.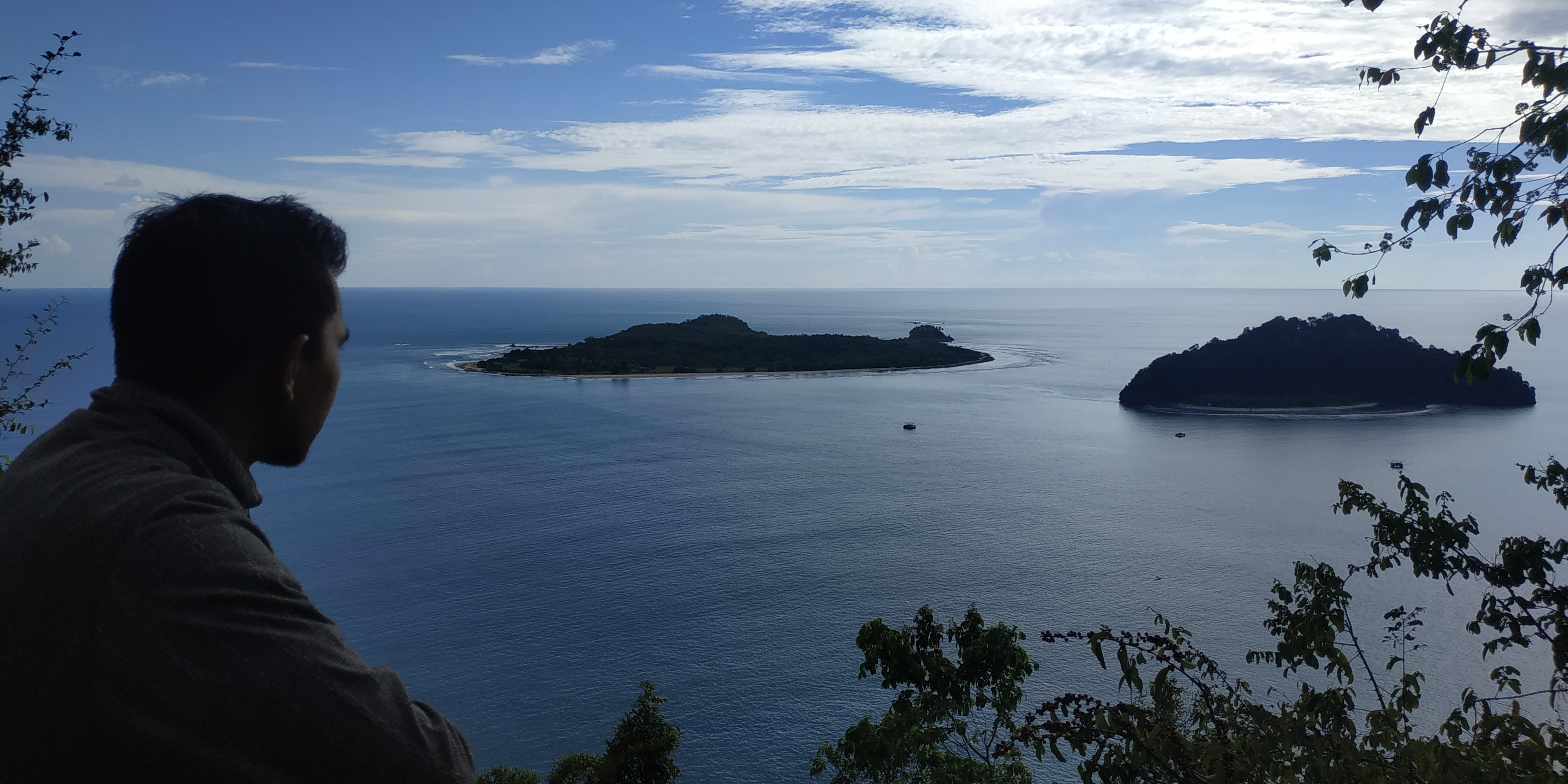 Then decorated with clouds piled up, the most impressed is the ocean accompanied by two small islands, so it looks very beautiful and unique. Visitors need to climb the mountain by climbing several stairs to get to the top of the mountain gurutee.
---
Monkeys become visitors' friends
This is what I really like, monkeys are very close to humans, they are not pets, but they take to the streets and stalls when they feel hungry. I feel salute and I consider unique, they are so close to humans, they even understand the conditions and atmosphere in the stalls.

These monkeys do not disturb visitors, they just sit down, and joke if visitors invite them to joke.


They like holding hands, and hugging.
at first I was very scared, and felt amused because he held my hand.
This is the first time I am familiar with monkeys, and I am very happy to see their behavior is very funny.

see the video, how is the expression on the face of the monkey when confused. I don't know whether he is sad or sleepy 🤣🤣
I can't imagine what they think.
I think this monkey is like an old man, he sat relaxed.
😂😂
Monkeys like this are only 3 bro.
Two monkeys as lovers, and another child is still a baby. His wife is very good at hanging here and there, I make sure, if you have time to visit this tourist spot, you will be entertained by the monkey's behavior.
All photos and videos are mine.
Enjoy,
visit this place, if you have a lot of time off.
Regards,
Cekmae