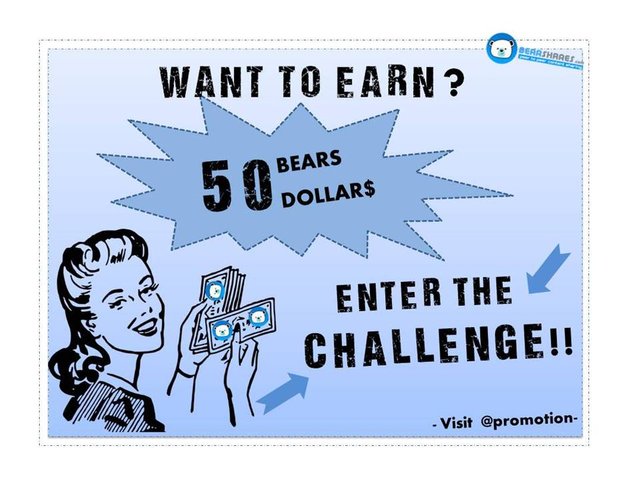 Hey, my Bearsfriends how about entering the challenge?
Leave a comment to 5 different sites that you can find below, take screenshots of your comments and share your work on @promotion, easy right?
And @promotion will send you 50 BSD.
Below you'll find sites that talk about various blockchain-based blogging platforms where you can leave a comment:
4 Blockchain Projects Content Creators Should Know About.

13 Ways To Earn Cryptocurrency In 2019.

3 Reasons to Use a Crypto Social Network

Top 5 Blockchain Based Social Media Website That Pay Rewards
Decentralizing Social Media Rewards: Steem and Snax comparison.

New global blogging platform allows bloggers to earn Bitcoin SV.
WHAT TO WRITE IN THE COMMENT?
Few words to explain the potential and characteristics of Bearshares.
Below an example:
Congratulations on your article, it's really interesting. I also use blockchain-based blogging platforms and recently I found myself very well on Bearshares which has existed for a few months but is growing rapidly and its Bears cryptocurrency is traded on 2 trading platforms: Bitshares and Easydex. Furthermore, being very young at Bearshares, you have the chance to accumulate a lot and grow rapidly. It works through a system of rewards where you earn based on:

the number of upvotes (like) received by your users from other users,
from exchanges of comments and upvotes,
the interaction with other users who are members of the platform.
SO WHO ACCEPTS THE CHALLENGE?😉
What you think is important!
My friends feel free to propose your ideas on how to best promote Bearshares, propose other challenges, tell what you expect from @promotion so we can grow and improve together.
Thanks for stopping by here and don't forget
to FOLLOW @promotion & SHARE this post.
Remember the success of Bearshares depends on all of us.