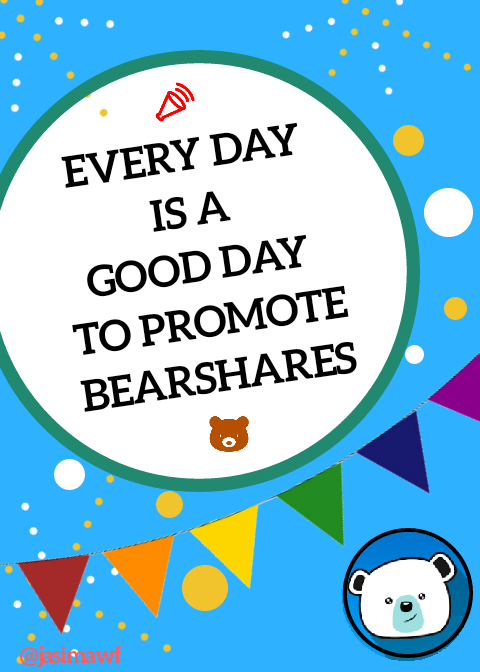 HAPPY SUNDAY.
We are 1128 Bearsfriends!!
Come on we can do better.
Visit
Explorer.Bearshars .
How can we do better?
Promoting Bearshares anywhere and in every social network
but also offline by inviting our friends,
it is the best system that allows our platform to grow and be competitive
with all other blockchain-based platforms.
📣 📣 📣
Remember that by promoting Bearshares you will be rewarded by receiving 100% upvote from @promotion and @mikitaly in addition to visibility and therefore the possibility of receiving more votes from others.
So use the following TAGS: #promotion, #promo-bear, #bearshares-promo, #promo or simply leave the link of your promotional post in the comments.
👍😉
HOW DO THE PROMOTION FOR BEARSHARES?
Talk to your friends about Bearshares.
Invite people to Bearshares Discord.
Make posts about Bearshares and share them on any social network.
Invite people to Bearshares.com via e-mail.
When you publish on Bearshares then share the post on social media to make an indirect advertisement.
Not sure what to write? Feel free to use my posts and my images, the important thing is to SPREAD the potential of our platform.
Or find your favorite CHALLENGE among all the active promotions here and EARN a lot of BSD 💰!!
And if you buy BEARS you will be rewarded read more here .
In short, we can do so much for Bearshares all together!!
I count on everyone's participation because all of us together We Beashares.
Thanks my friends for stopping by here. 😊
FOLLOW @promotion & SHARE this post.😉